Our Christmas concert presented by TVRS and on the Web
Here are some photos taken from our television broadcast which will be on the air starting from this evening on TVRS and on Facebook. 
LE TEMPS DES FÊTES À SAINT-LAMBERT
An hour-long concert offered free of charge to a large captive audience deprived of in-house performances this year!
There is so much to say about the efforts made by artists, musicians and creators to survive this pandemic. This concert is a testament to our resilience and our spirit of exploration!
Singing with a mask is a huge challenge for the choristers, who normally perform side-by-side and unimpeded. Adding to the complexity of our work, our choir was divided into 3 small groups, to respect social distancing.
And yet, the sound is magnificent.
This is a concert that you will listen to again and again, like a good Christmas album. A link offered as a gift, to put under the Christmas tree!!!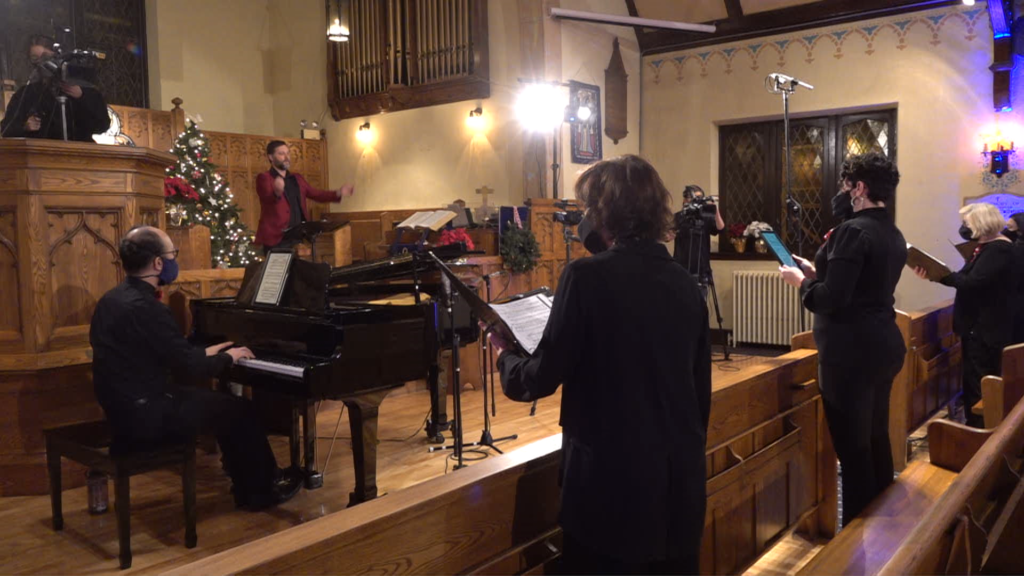 This recording was carried out by TVRS in compliance with the health measures in force.
BROADCAST SCHEDULE
Thursday December 17 at 6:30pm
Sunday December 20 at 8:00pm
Thursday December 24 at 9:00pm
Sunday December 27 at 7:30pm
Wednesday December 30 at 6:00pm
The broadcast will also be on line on FACEBOOK
On the program
Les Anges dans nos campagnes  – Ernest Gagnon
Angels' Carol – John Rutter
O come, O come Emmanuel – Arr. Willcocks
The Saviour of the World is Born – Gustav Holst
Il est né le divin enfant – Ernest Gagnon
Eit barn er født i Betlehem – Arr. Ørjan Matre
A New Year Carol – Benjamin Britten
The Little Road to Bethlehem – Michael Head
Cantique de Jean Racine – Gabriel Fauré
Noël nouvelet – Raymond Daveluy
Gesù Bambino – Pietro A. Yon
Ave Verum Corpus – W.A. Mozart
Panis Angelicus – César Franck, arr. John Rutter
Nouvelle agréable – Ernest Gagnon
Many thanks!
The St. Lambert Choral Society thanks, from the bottom of our hearts, all who participated directly or indirectly in the production of this holiday program, recorded on Thursday November 2020 at the St. Andrew's Presbyterian Church in St. Lambert.
Thank you to our partners and presenters
The City of St. Lambert for its trust and its financial support
The St. Lambert economic development corporation for its financial contribution and logistical support
TVRS, our media partner and, in particular, M Sylvain Casavant and Yves Labrosse for their precious collaboration
Thank you to our principal sponsors
Collège Charles-Lemoyne
L'Échoppe des fromages
Maison Lambert
Le Castel
Thanks to the residents of Le Castel: M. Jean-Claude Jobin, M. Guérette, Mme Hufferman, Mme Gagnon, Miss Benington, Miss Cazavant, Mme Tarzi, Mme Montpetit, Mme Aubry, M. Dulude, Mme Sweeny and the others.  Thank you to the employees of Le Castel and to Eva Dufaux.
Particular thanks to all who said yes!
Nathalie Denault of Café Pistache for her hospitality and the warmth of her fireplace!
Anita Mack from St. Andrew's Presbyterian Church for her welcome
Richard Harvey, photographer, cameraman and chorister for exterior filming
Jean-Marc Létourneau, director, for his good advice
Thank you to the presenters of the pieces, in order of broadcast:
Marc Rouleau
William Nadeau
Lucas et Béatrice Johnson
Oriana et Analena Cledon
Christian Barrette
Robert Taylor
Julia Daus
Michel Cojan
Denyse Lemay
Wesner Charles
Franco Parreira
Katerine Beaulne
Claude Fugère
Thank you to the people who made 2020 unforgettable!
Mme Renée Rouleau for her kindness
Marcel Renaud of LOOKOMMUNICATION for our new website and new logo
The Pratt & Whitney choir for their elegant bow ties
Thanks to Georges Pichet, CEO of the City of St. Lambert
Thanks to Josée Véronneau, head of the Arts and Culture division of St. Lambert for her logistical support
Thanks to France Désaulniers, municipal councilor, responsible for culture
Thanks to elected officials for supporting the development of our heritage choir
Thanks to all our generous donors, volunteers, photographers and friends who contributed to the influence of our art!
A special thanks…
To our choirmaster Xavier Brossard-Ménard and our accompanying pianist, Benjamin Kwong
Thanks to our choristers who respected all the sanitary measures and all the constraints linked to such a production
SOPRANOS
Carole Berthiaume
Nicole Brière
Michèle Bureau
Marie-Josée Chapdelaine
Danna Chavez
Betty-Jo Christiani
Fiona Darbyshire
Isabelle Dubuc
Josée Fabien
Monika Friedberg
Marissa Halil
Karen Hernandez
Laura Prince
Louise Rousseau
Geneviève Sarda
ALTOS
Elizabeth Bourdon
Adeline Chrétien
Claudine Genest
Jennifer Martin
Jinan Paquin
Hélène Poulin
Martine Robitaille
TENORS
Serge Massé
Michel Raymond
Justin Swanson
BASS
Mario C. Charest
Reed Copeland
Jean-Jacques Grill
Ernst Jouthe

Thank you to all the members of the SLCS Board of directors
Karole Arsenault, Elizabeth Bourdon, Michèle Bureau, Adeline Chrétien, Jean-Jacques Grill, Marie-Josée Chapdelaine, responsible for financing, Hélène Poulin, responsible for sanitary measures, Geneviève Sarda for technical management, Louise Rousseau for the coordination of this project.